***********************************************
tbo.com 5-10-2012
Strong reactions to marriage stance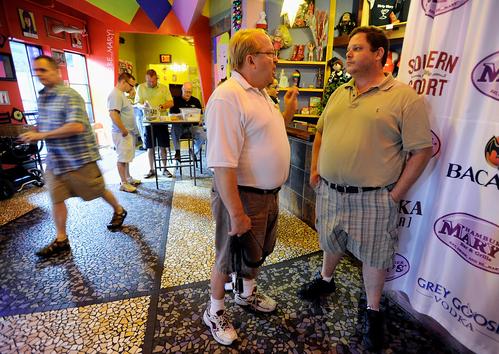 *** MAIN IMAGE *** Carrie West, left, talks with Kurt King at Hamburger Mary's Bar & Grille about the recent statements by President Obama on same sex marriage Wednesday, May 9, 2012 in Tampa. Cultural conservative leaders said Obamaaïs stance will energize their base, who havenaït been enthusiastic about Mitt Romney. CHRIS URSO/STAFF
By KEITH MORELLI, JOSÉ PATIÑO GIRONA | The Tampa Tribune
Published: May 10, 2012 Updated: May 10, 2012 – 12:00 AM
TAMPA —
Kurt King has been with his partner, Laurence McCann Jr., for 20 years. They wish they could get married because it would legally solidify their union.
"We talk about marriage all the time," said King, 44, owner of Hamburger Mary's Bar and Grille in Ybor City. "We are very close as it is, but marriage just bonds you."
Not being married presents challenges, said King, of Valrico. Last year, McCann was ill and spent six weeks in the hospital. Even though they had a living will and King had power of attorney, the hospital moved McCann to another room without informing King and administered procedures without his consent.
"If we had been married, we wouldn't have had that problem," he said.
President Barack Obama's endorsement of same-sex marriage brought strong reactions across the Tampa area on Wednesday. Not unexpectedly, the type of reaction tended to correspond with previously held beliefs.
Myrtle Lake Baptist Church Pastor Elbert Nasworthy Jr. said the president made the wrong call.
"The Bible talks about homosexuality," he said, "It is a sin. It is against God's desire for man. And so with that said, biblically speaking, I just feel like he made the wrong decision there. But it was the decision he made."
Legacy Church Pastor John Garcia said he was disturbed by the announcement. He predicts the president's stand will hurt Obama at the ballot box.
"It's sad when he can't stand up and accept what the majority of the people desire."
Sally Phillips, president of the Florida GLBT Democratic Caucus, said it's not surprising that the president's announcement will have political overtones. The acronym stands for gay, lesbian, bisexual and transgender.
Critics will say it was a political move in an election year, Phillips said. But she said the president's announcement is bigger than individual politics — it's a huge step toward equality.
"It's really about civil liberties," Phillips said. "A group of people should never be discriminated against because of who they are and who they love."
The announcement couldn't have come at a better time — a day after North Carolina voted to ban same-sex marriages, she said.
"The majority should never vote on the rights for a minority," she said. "It's not the way it should be."
The president's comments come a day after a Gallup poll reported that 50 percent of Americans favor same-sex marriages, while 48 percent don't believe it should be recognized.
Tampa City Councilwoman Yvonne Capin became a hero of the region's gay community this spring when she sponsored an ordinance creating a domestic partnership registry for unmarried city residents, both gay and straight.
Capin's proposal drew strong support and little public opposition in the weeks it was on the council's agenda. Capin said the public's support for gay marriage is growing.
She said her proposal was not about gay marriage, which is banned in Florida, but about creating families. The proposal lets unmarried couples make life-and-death decisions for each other and protects their rights to shared children.
Capin praised the president's decision to support gay marriage.
"I do believe it's courageous on his part," she said. "We are all equal. When we try to repress a minority, it's not good for our country."
While the president's comments are certain to spark debate in the days and weeks to come, Pastor Nasworthy does not plan to bring it up in the pulpit this week.
"This week, the sermon is about Mother's Day," the pastor said. "We are honoring our moms."
kmorelli@tampatrib.com (813) 259-7760
Bay News 9 5-9-2012
Photo below taken in store during interview by Mark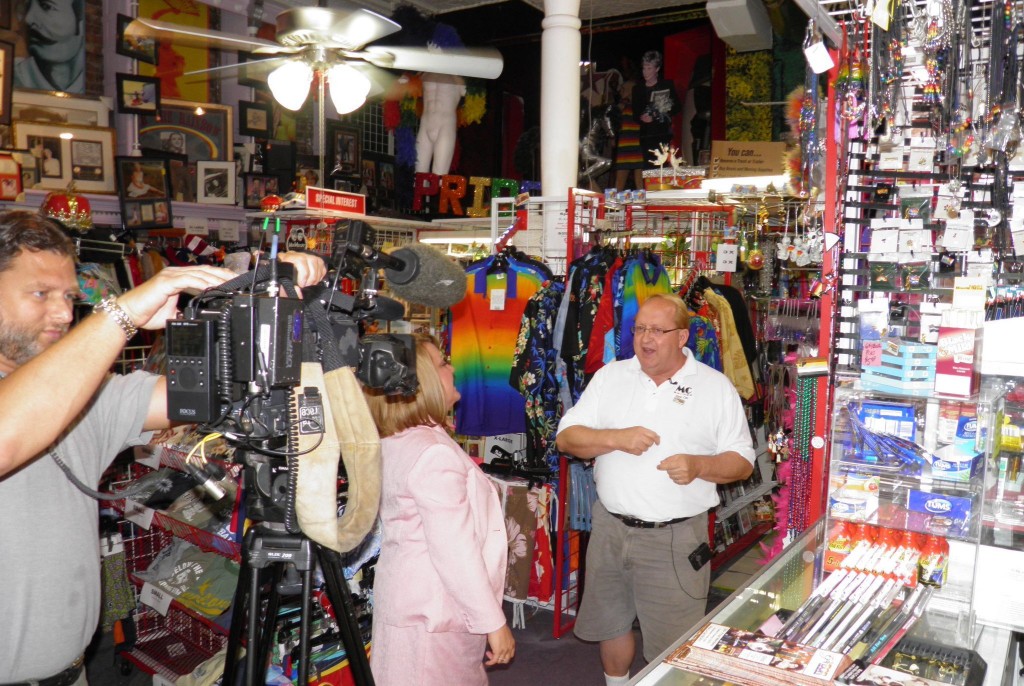 Gay advocate, pastor respond to Obama's stance on same-sex marriage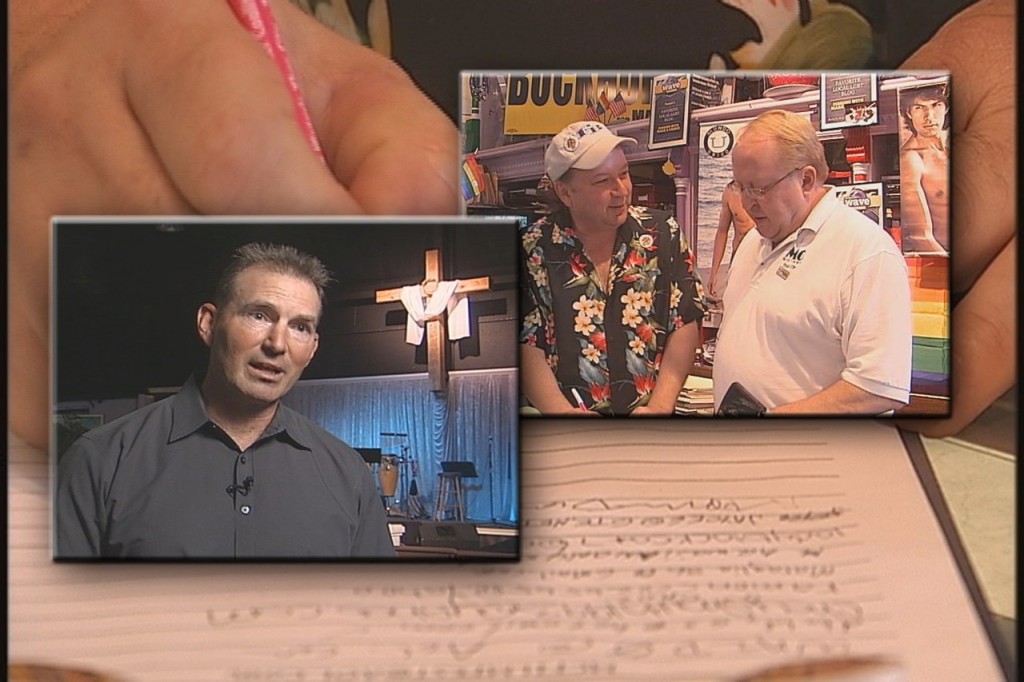 In the Bay area, gay advocates are applauding the President's words, while those not in favor of his words are worried about what might come.
By Laurie Davison, Reporter
Last Updated: Wednesday, May 09, 2012 @ 11:06PM
i-poll
Do you think President Obama's support of same-sex marriage will help him win re-election?
It will help him(29%)
It will hurt him(55%)
Not sure(16%)
This poll is not scientific and reflects the opinions of only those internet users who have chosen to participate.
TAMPA — 
Lending his public support for same-sex marriage Wednesday, President Barack Obama said his decision to announce his view comes after years of "evolving" on the issue.In the Bay area, gay advocates are applauding the President's words, while those not in favor are worried about what might come.
Carrie West and Mark Bias have been together for 35 years. Together as gay rights advocates, they run the novelty GaYbor store in Ybor City.
West is thrilled with Obama's announcement of support. "This is quite a feat, I tell ya," he said.
Although they're not able to legally marry in Florida, West said they have made strides in recent months.
He points to Tampa's decision to approve a domestic partner registry and felt Obama's stance now builds on such moves by cities like Tampa.
"This is going a thousand, ten thousand, a hundred thousand fold how big this is," West said. "This is going across the country. The states that have legalized gay marriage — it's such a positive, because it reinforced and supports the culture and their identities, and also their beings."
Obama initially said he thought civil unions were enough, but in an interview with ABC News, the President said he changed his mind after talking with friends and family, as well as staff members in same-sex relationships.
"At a certain point, I've just concluded that, for me personally," the President said, "this is important for me to go ahead and affirm that I think same-sex couples should be able to get married."
Of course, there is the other side of the argument.
"It takes away the reality that God created us as a male and female," Tampa's Northwest Community Church pastor Scott Collins said. "It's about procreation. It's about family. It's about life."
Collins believes marriage should be between a man and woman.
"Even the way we logically work and function, with plumping, it's male and female parts — nuts and bolts are male and female," Collins said. "Everything has always operated in a system."
Back in Ybor City, West and Bias said if they are ever able to get married in the Bay area, they probably will.
"That would be a big party."
But for now, they're happy celebrating the President's decision.
Obama stressed his belief is personal and same-sex marriage is an issue best legally decided by individual states.