Baxter's Closing.
The last weekend at Baxter's went out with a bang. They hosted a leather fetish party here. There were 100's of people there. In the parking lot be hind Baxter's were tents with a big vendor show. Baxter's will be missed by many in our community. The only good thing is that they are going to be knocking down the building!! Thank Goodness those wall can't talk!
October 27, 2015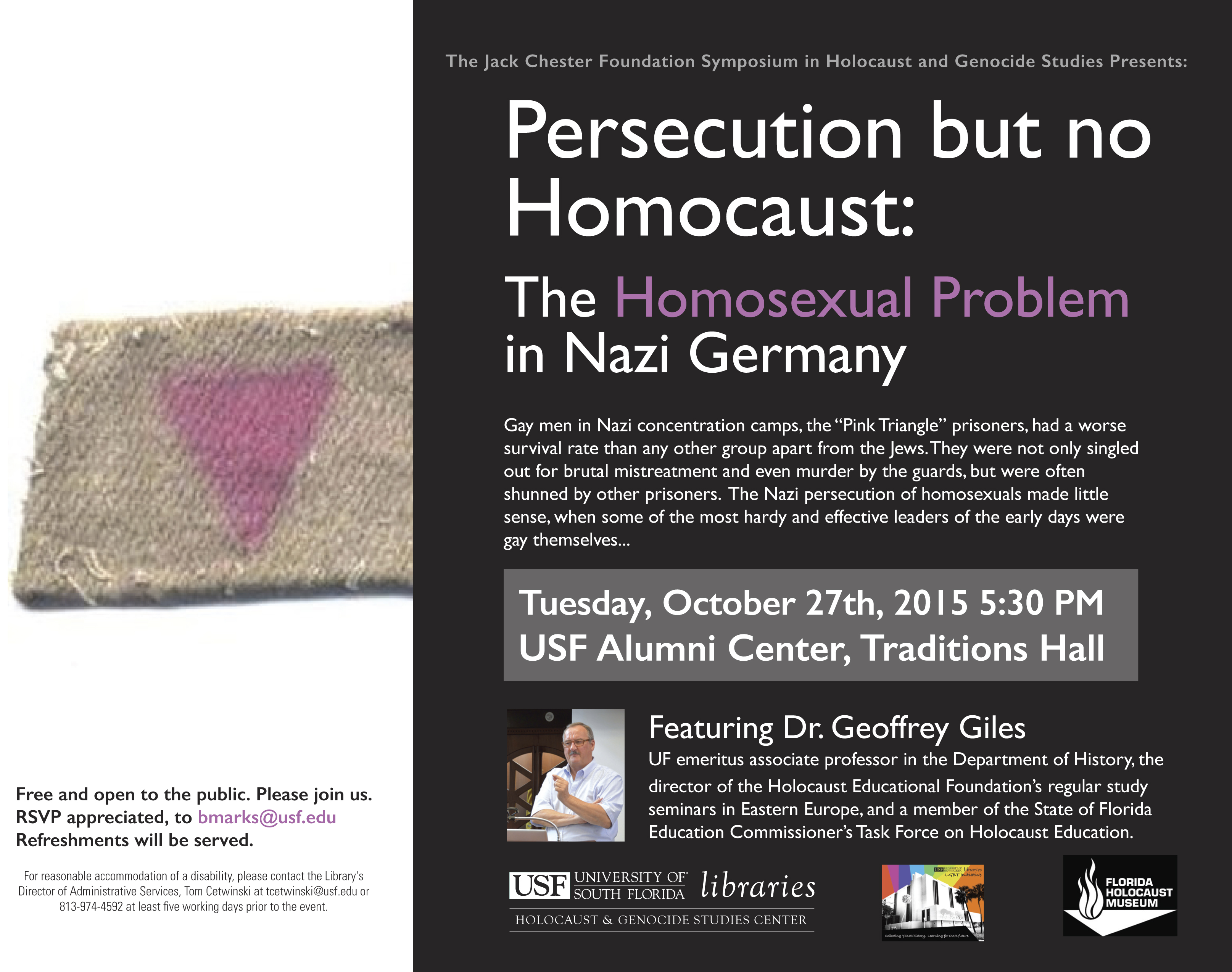 The USF LIBRARIES HOLOCAUST AND GENOCIDE STUDIES CENTER AND THE FLORIDA HOLOCAUST MUSEUM invite you to join us for the 2015 Jack Chester Foundation Symposium in Holocaust and Genocide Studies. This year's event will combine the annual LGBT and Chester Symposium in one event. Dr. Geoffrey Giles will present "Persecution but no Homocaust: The Homosexual Problem in Nazi Germany" at 5:30 PM on October 27th, 2015, at the USF Gibbons Alumni Center's Traditions Hall.
Dr. Giles is the director of the Holocaust Educational Foundation's regular study seminars in Eastern Europe, and a member of the State of Florida Education Commissioner's Task Force on Holocaust Education.
RSVP is requested, but not required. If you have a moment, please RSVP.
Download a PDF flyer for this event.
Presented by the Jack Chester Foundation Symposium in Holocaust and Genocide Studies, and produced by the USF Libraries Holocaust & Genocide Studies Center and the Florida Holocaust Museum.
Metro Wellness and Community Center
Mark Your Calendar Nov 7th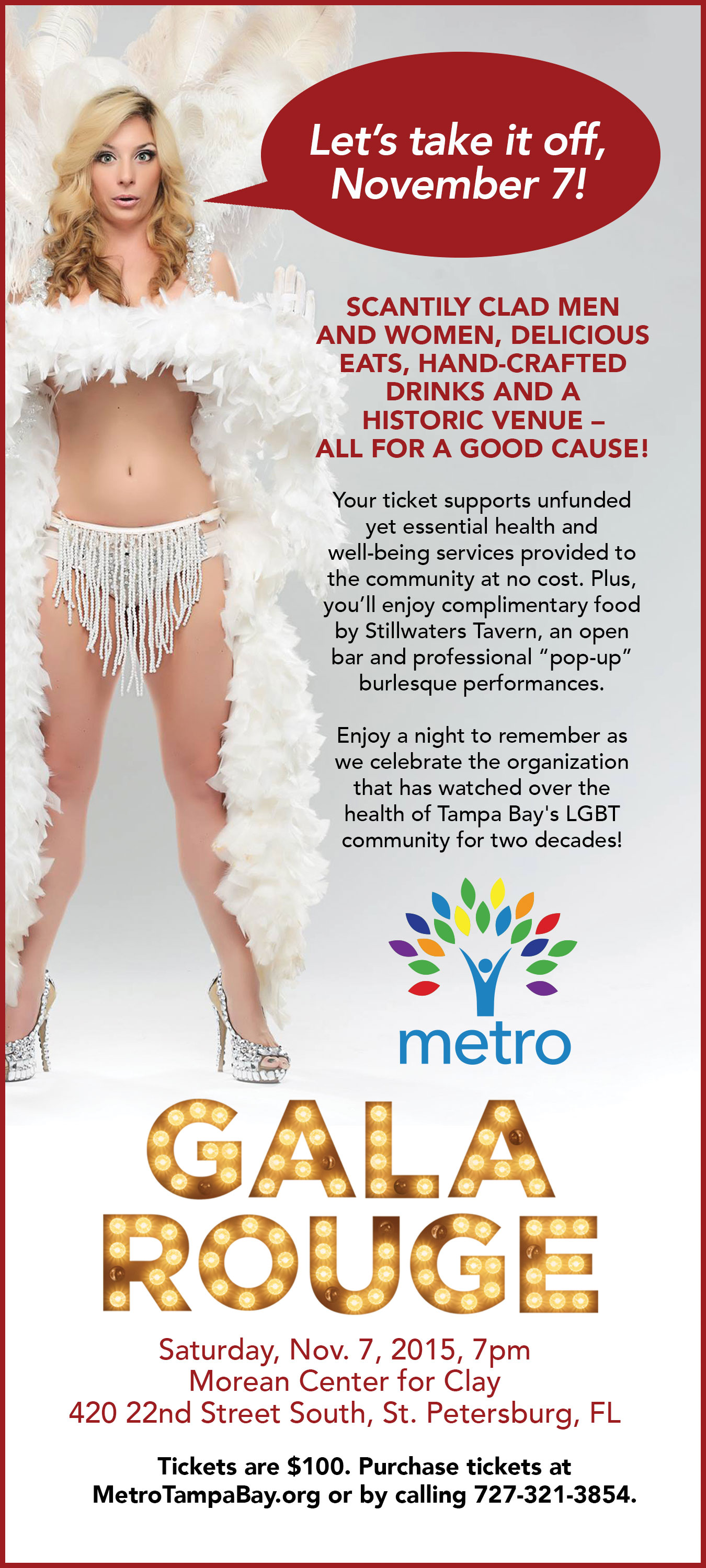 Subject: We're Taking it Off, Nov 7
Dear Friends:
Let's Take it Off!
Scantily clad men and women, delicious eats, hand-crafted beverages and a historic venue. Our friends at METRO Wellness & Community Centers are about to throw a party that's not to be missed!
We're looking forward to celebrating the organization that has watched over the health of Tampa Bay's LGBT community with unwavering compassion for the last two decades. Without METRO, so many of our LGBT youth, seniors and community would not have access to essential services for health and wellbeing.
Enjoy a magical evening catered by Beach Drive's Stillwater's Tavern, an open bar and pop-up performances from a professional burlesque company in a grand historic setting.
Your ticket price will go towards the thousands of dollars in un-funded programing offered to our LGBT community by METRO. Let's celebrate this guardian angel of the LGBT community, November 7th in St. Petersburg's historic warehouse district.
Please click the link below to join us for an amazing evening!
Chris Rudisill
Director of LGBT Community Center Services
Pat Kemp
We are Excited to be a co-host for Pat Kemp
Pat Kemp for County Commission Fundraiser One Year Out!
Please join
Gordon Davis, Betty Castor & Sam Bell, Tom Hall,
Jim Davis, Mary Figg, David Karp, Al Fox,
Yogi & Lovely Goswami, Mary Mulhern & Cam Dilley, Sara Romeo,
Karen & Bob Buesing, Hon. Ed Turanchik
Peggy Land, Joe Keel, Al Fox, Linda & Tom Scarritt,
Mariella & Tres Smith, Rick Fifer, Suzanne Hurley, Dr. Mark Morris, Carrie West & Mark Bias
for a
Campaign Fundraiser
One Year Out!
 Copperfish Seafood Grill
Wednesday, October 28, 2015
5:30 – 7:00
Suggested Contribution Levels: $50 – $1,000
~Maximum Contribution $1,000 per individual or corporation~
Rsvp, or to join host committee:
or
Please make check payable and mail to:
Pat Kemp Campaign, P.O. Box 9493, Tampa, FL 33674
Political advertisement paid for and approved by
Patricia "Pat" Kemp, Democrat for Hillsborough County Commission Countywide (District 6).
RECIPE: Great Fall Apples In  a Tasty Autumn Waldorf Salad
  It is coming into Florida's fall and no better way to enjoy the season than by enjoying the fresh  fall crop of crispy apples and pears.
    This is an enjoyable easy salad recipe we love to eat. It is like a granola bar in a bowl for lunch or shared with dinner. Easy to make. Tart & Tasty.
2 Granny Smith apples, cored and diced

1 Red Delicious apple, cored and diced

1 Asian pear, cored and cubed

1 stalk celery, diced

1/2 cup sliced almonds

1 cup golden raisins

1 cup seedless green grapes, halved

1 1/2 cups sweetened dried cranberries

1 1/4 cups plain yogurt

 1/3 cup brown sugar

 3/4 cup mayonnaise (we use Dukes)

 3 tablespoons lemon juice or key lime
In a large bowl, combine the fall crispy Granny Smith apples, Red Delicious apple, Asian pear, celery, almonds, golden raisins, grapes and cranberries. In a separate bowl, stir together the yogurt, brown sugar, mayonnaise & lemon juice. Pour the dressing over the fruit mixture and stir gently until evenly coated

.
Refrigerate.
Shuuu… Coming Soon